Locksmith Works
LEV, s.r.o. disposes of experience and technologies enabling to produce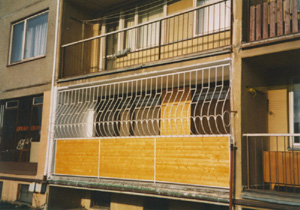 Decorative Safety Grate
Loggie of Prague Flat

practically any locksmith product of larger or smaller scope, an engineering or building character. The most frequent jobs in this brand are steel building constructions (fences, grates, handrails, stairways, classic or sliding gates etc.), whitesmith products, a steel furniture (workbenches, cases and regales), steel halls and garages, consoles and aerial poles.