Acoustic Hoods
The most effective method of reducing of high noise levels of industrial plants and equipment is the effective intervention directly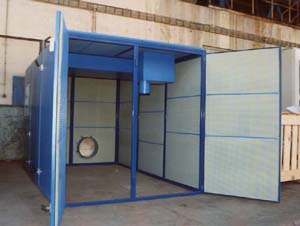 Accoustic Hood
A Sub-supply for ČKD Praha

against a noise source, i.e. directly against a machine or equipment using an installation of suitable acoustic hood.

A product of own development using own long-term experience in production of tens of acoustic hoods is our universal constructional system PK96 which enables a rapid and effective design and realisation of efficient acoustic hoods suitable for indoor or outdoor installation and at the same time a production of hoods fully adapted either to a protected machine or requirements of an user. This constructional system PK96 is suitable for a medium (1 x 2 x 1 m) and large machines (until now maximum is 7 x 12 x 5 m ). Special compact hoods are more suitable for smaller machines.

LEV®, s.r.o. company delivers acoustic hoods either as a final product to end-users of machines or as sub-deliveries to OEMs of compressors, blowers, pumps and other special equipment (e.g. a portable starting unit with aircraft turbine).