Key products of LEV®, s.r.o. company includes a set of products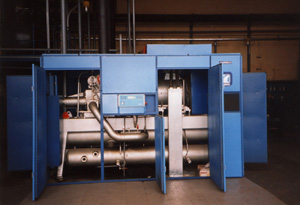 Refrigeration Machine Room
Staropramen Brewery

for protection of industrial plants and equipment against an excessive noise: acoustic hoods of machines; noise silencers; noise-reducing doors and gates; acoustic screens; shields for separating of noisy workplaces (grinding plants, test chambers etc.); panels for quiet rooms (control rooms, acoustic cabins etc.).

Besides these products our company offers also a custom-made production of locksmith goods of smaller or bigger scope of engineering or building character.

A surface finish of own products is a commonplace which is ensured externally in some variants.