LEV®,s.r.o. company uses in their products a row of advanced design and technological solutions.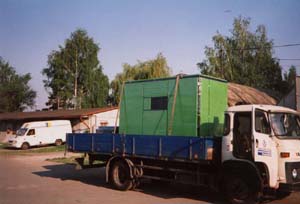 Transport of Accoustic Hood
Royal Brewery at Krušovice

The universal constructional system PK96 belongs to the key results of own development enabling a rapid and effective design and realisation of effective acoustic enclosures suitable for different above mentioned services.

Multi-layer damping panels designed for the maximum damping of noise of covered machine are produced using jigs and their composition is always designed for a particular product and a purpose of use. Their efficiency was tested and the Engineering Test Institute at Brno issued the certificate for noise-reducing panels based on test results in its acoustic laboratory.

The company uses not also theoretical knowledge of problematic of noise emitting and damping in a space but also a multi-year practical experience.

This all enables to LEV®, s.r.o. company to deliver products which are characterised by not only a high levels of damping but also extraordinary characteristics, a reliability and long-term operating life.

A high quality surface finish which is offered in many variants and designed according to a purpose and installation of individual products is a commonplace and essential necessity not only for a long-term service life and a wide range of use but also for a nice look and a high quality characteristics of own products.